Safe, Reliable, and Loving Care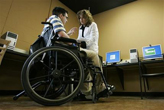 Supported Employment Service
for Adults with Disabilities
---
---
We assist clients with:
Job exploration - discovering work interests and abilities
Job development - finding a job matching individual interests, strengths, and needs
Job coaching - helping learn the skills of a particular job
Job support - helping the worker and employer with issues related to job performance to help ensure on-going success at the job site
Personal and social adjustment assistance and training
Our goal is to help our clients achieve full inclusion and integration in society through relationships and work. Our supported employment services are highly individualized. We take time to understand the unique strengths, needs, desires, and abilities of each individual as we provide assistance in getting, learning and keeping paid jobs and careers.
We assist the client in an integrated work setting where most co-workers are persons without disabilities. Each worker with a disability may have his or her own individual job or work within a small group.
We can assist clients with "Customized Employment", where a job is individually negotiated and developed with individual supports, accommodations, and/or modifications.
Our staff work with the individual to determine his/her strengths, needs and interests, and to find appropriate employment opportunities that will a good and lasting fit for the client.
For a few individuals supported employment may mean "self-employment". We can work with the individual to create a business plan, utilize the Small Business Administration and other supports, and provide help during start up and ongoing to ensure business growth and stabilization.
Personal and social training helps to prepare the client for the 'world of work', and the social expectations of the workplace. Grooming and personal habits related to work are addressed.
Payment Options:
These services can be paid for by the DBHDD NOW/COMP waiver, and by private pay.
Top