Safe, Reliable, and Loving Care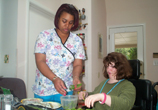 In-home Care Service
for Children and Adults
with Disabilities
---
---
At Loving Care Family Services, we place an emphasis on caregiver-client interaction and age appropriate activities, as well as maintaining a commitment to quality personal care.
Our caregivers are trained Certified Nursing Assistants, or Personal Care Aides if Personal Home Care is required. All of our caregiver are carefully screened and receive ongoing continuing education and performance tracking.
Our In-home care services include:
Sitting/respite services
Emotional support through play & encouragement
Play activities that support therapy goals
Transportation, including accompanying child to therapy
Bathing assistance
Feeding assistance
Toileting assistance
Dressing assistance
Assist with walking/ambulation
Assist with transfers
Assist with range of motion exercises
Help with safe use of equipment & assistive devices
Help with homework
Light housekeeping
Meal preparation
Monitor diet/eating
And more . . .
Tell us about the specific needs and goals of your child and family!
Payment Options:
These services can be paid for by the DBHDD NOW/COMP waiver and by private pay.
Top